I visited the awesome Swirlydoos website today and saw a new tutorial for using gesso. I loved what they did, I had all the stuff on hand and I have friend (Fiona) who really wants to do a canvas project, so....
I am giving it a go. It's not my first canvas but it is the first time I am using the textures and masks.
Step 1. Pick a canvas
Step 2. Pick my masks, I chose a butterfly mask And a decor mask both by Glimmer Mist.
Step 4. I have gesso primer and gesso texture, I picked the texture. Placed my masks and slathered on the paste.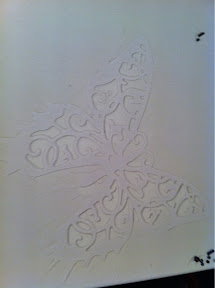 Step 5. Add some more dimension. The Swirlydoos technique used buttons but I went for beads.
The beads look quite dark in the photo but they are really quite shimmery.
Step 6. The last step for tonight was to add a little more texture. I keep a pile of sample textures for use in my crafts. Here's what i did.
That's all I can do tonight as I need to let it dry. I'll be back soon with the next steps.
I have no idea how it will turn out but it sure is fun playing.